Uhm... What's old is also what's new
We just released our very first book (yay!). So the backlist is pretty much the frontlist. Feast your eyes on this baby: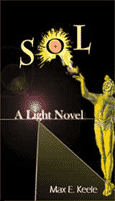 SOL: A Light Novel
FICTION: Fantasy: Contemporary
February 2012 Naraka Press
Paperback $9.99
ISBN-13 978-0615594248
(ISBN-10: 0615594247)
eBook $1.99
ISBN-13 978-1-4661-0369-6



More about SOL....